– We Are Weymouth in partnership with Houseworks, Weymouth & Portland Marine Litter Project and the Nothe Fort to create poppy art installation – 
We Are Weymouth has teamed up with local organisations Houseworks Dorset CIC and the Weymouth & Portland Marine Litter Project to work within the community and create a poppy art installation at the Nothe Fort.  Cascading down either side of the entrance to the Fort, recycled fishing nets and twine from the Weymouth & Portland Marine Litter Project will be covered in poppies created from plastic bottles.  In total, 5,500 poppies will be needed to complete the installation and Houseworks Dorset CIC is running 3 workshops throughout the next 4 weeks to make the poppies.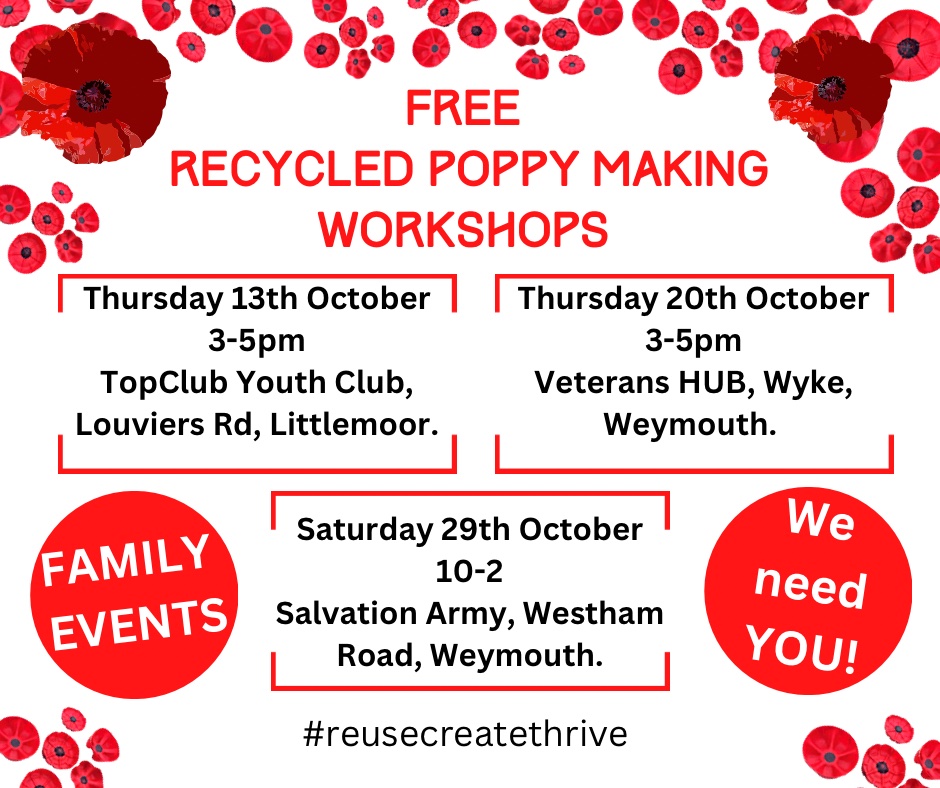 Weymouth locals are encouraged to drop off their empty plastic bottles and any poppies completed at home to the Nothe Fort, the William Henry pub at 1 Frederick Place or The Veteran's Hub at 12 Portland Rd. The workshops to create the poppies are a great way for families to get creative and are free to attend. For those with loved ones serving or have served, names and messages can be written on the poppies in their honour.
Jye Dixey, Board Member at We Are Weymouth comments: "With such a military history here in Weymouth we really wanted to do something within the community to commemorate Remembrance. Our curtain of poppies at the entrance of the Nothe Fort will be incredibly eye-catching and something for children and families to feel proud of after attending the poppy making workshops. We need 5,500 poppies so really want to encourage as many locals as possible to join in with the crafting, or donate their empty plastic bottles to one of our two sites."
Jodie Waller Joint Managing Director at Houseworks Dorset CIC says: "As an earth-kind arts organisation we are excited to support a project that promotes connection in our community. The workshops are a great opportunity to get together to achieve something amazing and learn about sustainable creativity."
The installation will take place on Monday 7th November, opening to the press and public on Tuesday 8th November. It will remain in place until Monday 21st November. As well as the poppy art, the Nothe Fort will be lit in red for the month of November, along with the Pavillion, Jubilee Clock and seafront lights.
With such a short amount of time to create, fix and hang the poppies, the team behind the art installation are very keen to encourage locals, families, veterans and more to attend the workshops and help make poppies.
Upcoming workshops:
Thursday 13th Oct, 3-5pm – TOPCLUB at Littlemoor Youth Centre
Thursday 20th Oct, 3-5pm – VETERANS HUB at Wyke
Saturday 29th Oct, 10-2pm – SALVATION ARMY at Westham road